Chess Club Manager 2.5 - WINDOWS

The Official Scholastic Software of the U.S. Chess Federation
"The ultimate chess tool for schools. Think Like A King does it all!"
- Bruce Pandolfini, renowned chess coach and author portrayed by Ben Kingsley
in Searching for Bobby Fischer (Paramount Pictures, 1993)

Chess Club Manager 2.5
Chess Club Manager, part of the Think Like A King School Chess Software System, lets you create all the information a chess club needs, and use it to transform an activity into a varsity sport. This remarkably easy-to-use software enables you to fully motivate students with features like club ratings and standings, bonus points and statistics.
Export player data, choose a rating system, create instant tournament registrations by print or e-mail. Export data to SwissSys or WinTD to run your own tournaments.
Print award certificates for everything from playing skills to puzzle solving to effort to sportsmanship - or any other category you create.
It even lets you automatically reward learning via progress through our Thinking Belt system*. So whether through performance or participation, everyone in your chess program becomes a winner. And all your kids are inspired to do their best.
Chess Club Manager (CCM) makes it easier than ever for teachers to use chess as a powerful educational tool. It's like having your own assistant coach on duty 24 hours a day.
Chess Club Manager Features:
Player Roster and Demographics
Instantaneous Rating System
Bonus Points & Award Certificates
Track & Reward Learning Progress*
Motivate Student Learning with the
Thinking Belts (like Karate Belts)
Much, much more

* Chess Workouts required. [See the Chess Club Manager Teaching Package.]
---
CCM Coach screen shows links to all areas and functions of Chess Club Manager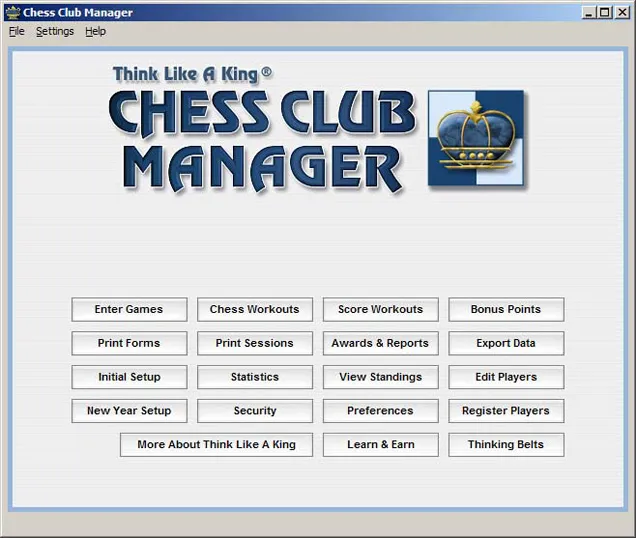 CCM Enter Games screen shows the player roster, and how CCM makes it easy to keep a precise club rating system all year long. Players click on their names, then the outcome of the game they just played, and their ratings are instantly adjusted.


Want to add an interactive teaching tool to Chess Club Manager? The Chess Workouts are the teaching arm of the Think Like A King system and have been described as offering "the highest quality instructional content of any chess software we have seen... The clarity of the language and the logical progression of the lessons is exceptional..." (IL Chess Association Youth Committee, Sept. 2010) - See the Chess Club Manager Teaching Package, for more information.
System Requirements:
Think Like A King Version 2.5 CDs contain software for Windows 95 through Windows 7
Requires 50 MB disk space.
Network version for Windows only.
Chess Club Manager and Chess Workouts School Edition usable on standalone PC or Windows server

Audience: First Lessons and Chess Workouts Vols. 1 & 2: Grade 3 & up readers (or younger, working with parents). Chess Workouts Vols. 3 - 6: Grade 4 & up readers.
---
More Information

| | |
| --- | --- |
| Hardware Requirements | Windows |
| System Requirements | Windows 2000/XP/Vista/7/8/10 |
| Windows 10 Compatible | Yes |