E-DVD - MASTERCLASS - Damian Lemos' Positional Chess Masterclass - GM Damian Lemos - Over 9 hours of Content!
ALL SALES FINAL! NO RETURNS OR EXCHANGES!
SORRY,

NO COUPONS ALLOWED FOR THIS ITEM!
Masterclass #02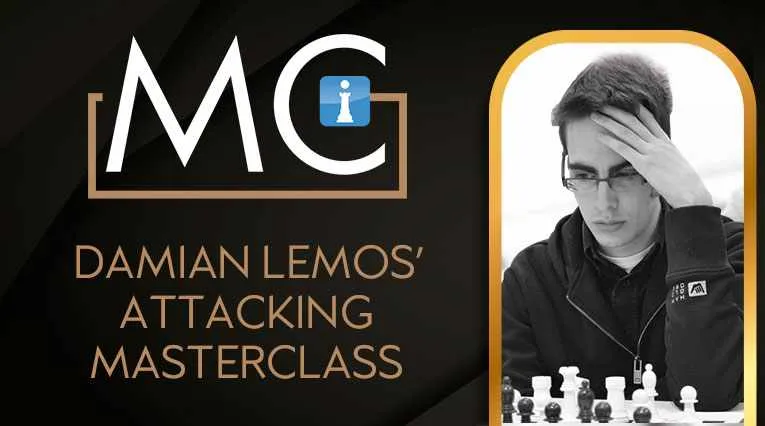 Discover the secrets of positional chess with this new, 9½ hour course from GM Damian Lemos!


Through the analysis of 16 carefully chosen games, Damian explains how we can build winning positions, move by move, without our opponent having to make a tactical mistake!


Every aspect of positional play is studied, including GM methods for consistently improving your pieces, building unbearable pressure and targeting a weakness.


The techniques you learn in this course will enable you to win in any type of position and notice the strongest ideas at a glance – perfect for blitz games!


Take the Positional Chess Masterclass and transform your understanding of chess.
Chapter Summary:
Transforming the advantage: Lautier-Karpov
Positional technique: Greenfeld-Anand
Improving the pieces: Aagaard-Akesson
Punishing passive pieces: Obregon Rivero-Martinez Lopez
Building pressure: Bauer-Korchnoi
Positional paralysis: Kasparov-Petrosian
Positional tactics: Petrosian-Geller
Playing with the isolated pawn: Kudrin-Kaidanov
Playing against the isolated pawn: Adams-Yusupov
Centralization: Kogan-Avrukh
Over-extended pawns: Sanguineti-Petrosian
Superior minor pieces: Carlsen-Karjakin
Targeting a weakness: Bellini-Mantovani
Opposite-side castling: Wojtkiewicz-Andersson
Powerful pawns: Uritzky-Alterman
Open lines: Gelfand-Salov
More Information

| | |
| --- | --- |
| ISBN | Does not apply |
| Delivery Time | Immediate Delivery |
| Popular Collections | MASTERCLASS |
| Publication Date | Oct 2, 2017 |
| Runtime | 9.5 hours |
| Hardware Requirements | Works on both Windows and Mac-based Computers |