MASTER METHOD - The Melekhina Method - FM Alisa Melekhina - Over 14 hours of Content!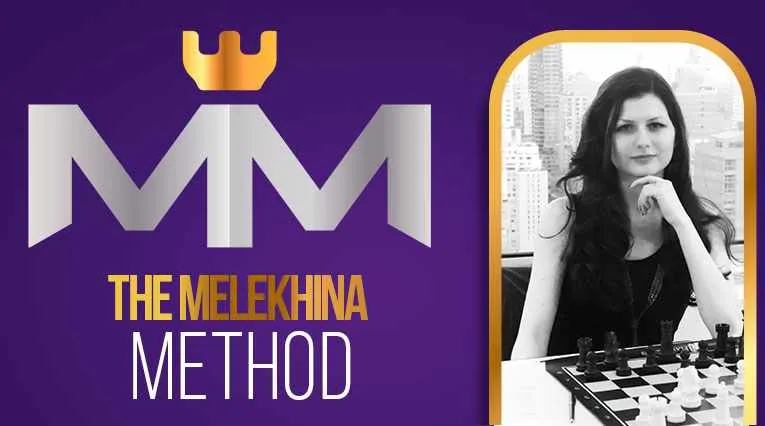 FM Alisa Melekhina's comprehensive course on practical power play is an essential for any tournament players looking to improve their results and reach the next level in their chess. Over the course of 15 hours, she equips the audience with the fundamentals of chess understanding, and, more importantly, a clear method for self-improvement.
First, Alisa provides a not-to-be-missed survey of various chess styles, from attacking to positional to universal, helping players to choose the style best suited for their individual play. Using this as a building block, Alisa goes on to cover the essential chess structures such as ones conducive to the attacking f4-f5 break and Caro-Slav structures. The goal is to arm you with plans you can use when in unfamiliar territory as well as providing guidance on structures you can build an opening repertoire around.
The second part of the course focuses on chess skills that you won't get just from learning theory. The true tournament player must be able to fight back from tough positions and convert advantages into extra points. Alisa gives you the battle-tested techniques and resourceful mindset necessary for this.
Finally, Alisa completes the series by revealing how to apply the ultimate key to improvement – self-analysis and critique.
The Melekhina Method will help you cultivate your style of play based on fundamentals, rather than focusing an opening repertoire that may be a bad fit. Along the way, you'll be encouraged to introspect on your chess preferences in shaping your practical play for ultimate success.
Summary:
Part I. Chess Styles
A.) Attacking

Paul Morphy – The Romantic era of creative sacrifices
Mikahil Tal – Inspirational attacking and positional sacrifices

B.) Positional

Jose Raul Capablanca – Master of simplification
Aron Nimzowitsch – Founder of hypermodern play and prophylaxis
Tigran Petrosian – Improving the pieces
Anatoly Karpov – Elaborate maneuvers
Universal Players – Garry Kasparov and Bobby Fischer
Magnus Carlsen – Positional provocation and problem posing
Part II Chess Structures
A.) Benoni/Benko structures – b5 breaks
B.) f4-f5 breaks in locked structures
C.) f4-f5 breaks in fluid structures
D.) The Caro and Scandinavian structures
Part III. Resourcefulness
A.) Fighting back from inferior middlegame positions
B.) Defending inferior middlegame positions
C.) Practical rook endgame essentials – Mismatching
D.) Other endgames – Perpetual checks and passed pawns
Part IV. Self-Analysis – the key to chess improvement
More Information

| | |
| --- | --- |
| ISBN | 616348553834 |
| Popular Collections | Master Method |
| Publication Date | April 26, 2017 |
| Runtime | 15 hours |
| Hardware Requirements | Standard DVD Player |
| Region Lock | None - Playable Anywhere |