DOWNLOAD - How to Win Miniatures at Chess
ALL SALES FINAL! NO RETURNS OR EXCHANGES!
SORRY,

NO COUPONS ALLOWED FOR THIS ITEM!
Rating
: 1000-2800 ELO
Difficulty
: Club and Intermediate player
The best way to improve your game is to train yourself on your computer in solving problems from practical games. Learn to attack and win in the opening: a great number of exercises will give you a fine chance to master every standard method of attacking the king in your chosen opening and help you to come out on top in your future games.
This course is intended for club players and includes more than 5900 exercises for mating in 2 moves in the opening and about 700 ones for mating in 3 or 4 moves. All the exercises are taken from practical games and arranged according to the names of openings.
You get plenty of feedback and opportunity to track your progress.
* Study the training material and test your knowledge
* Review your rating history
* Keep track of the progress of multiple users.
* Compete against your friends and family members
* Practice by playing against a chess program
System requirements: IBM-compatible PC, 64 Mb RAM, Hard Disk 50 Mb of free disk space, Windows 7/XP/Vista. No additional software required.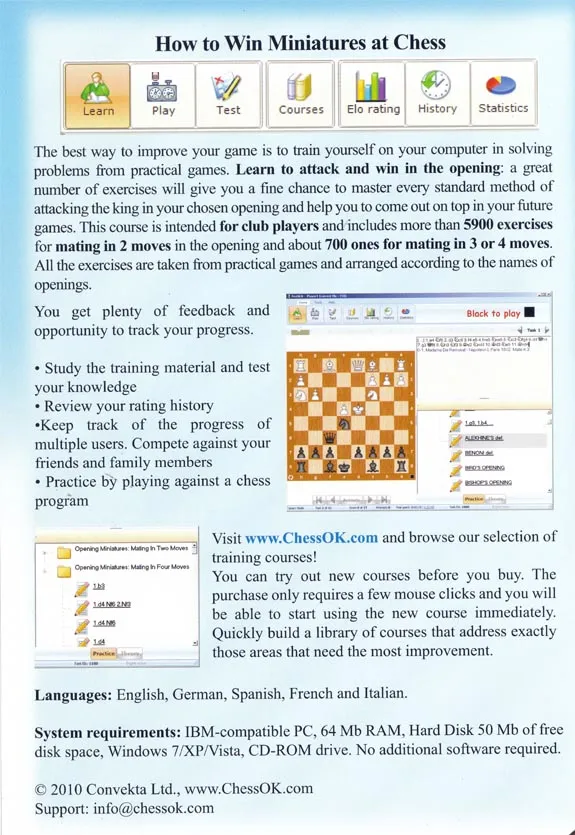 Return Information for Software & DVDs
Computer Software and DVDs can only be returned or exchanged if the product is in its original,sealed packaging and has not been installed or used in any way. Once you open the packaging of a Computer Software or DVD title, it can only be exchanged for the same title if the original media is defective. There are NO exceptions to this rule.
More Information

| | |
| --- | --- |
| Downloadable Software | Yes |
| Hardware Requirements | Windows |
| System Requirements | IBM-compatible PC, 64 Mb RAM, Hard Disk 50 Mb of free disk space, Windows 8/7/XP/Vista. No additional software required. |
| Windows 10 Compatible | Yes |