Scotch Game - Nigel Davies
Over 5 hours of instruction from legendary British
Grandmaster Nigel Davies
Product Description
The Scotch Game (1.e4 e5 2.Nf3 Nc6 3.d4) by Nigel Davies is a lively alternative to the Ruy Lopez which has found favor amongst many leading Grandmasters. The top experts in the Scotch include former World Champion Garry Kasparov as well as Alexander Morozevich, Sergei Rublevsky and others. The space White takes early in the game can easily translate into a powerful attack against Blacks king. In addition to this White can often usually some damage on Blacks pawn structure by capturing Blacks knight on c6. These dual aims have certainly been giving Black plenty to think about. On this DVD Nigel Davies introduces the viewer to the Scotch and first shows an easy way to get on board this opening via the Scotch Four Knights (1.e4 e5 2.Nf3 Nc6 3.Nc3 Nf6 4.d4). He then goes on to show how this can be built into a World class Scotch repertoire in which Black has more options but also comes under more pressure.
Whilst the presentation is focused mainly on those who wish to play White, Davies also suggests lines for Black. This makes it essential viewing for players wishing to play either color.
Video running time: 5 hours
Nigel Davies has been a Grandmaster since 1993 and is a former British Open Quickplay and U21 Champion. He had more than 30 years international tournament experience and is the author many other best-selling DVDs for ChessBase.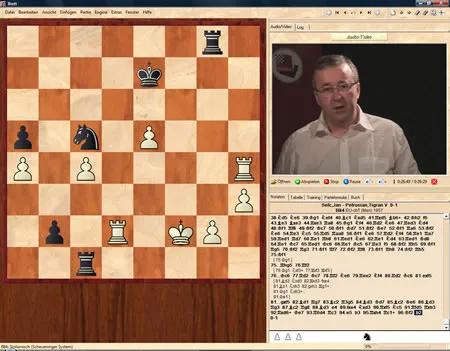 System requirements:
Pentium-Processor at 300 Mhz or higher, 64 MB RAM, Windows XP, Windows Vista, DVD drive, mouse, soundcard.
More Information

| | |
| --- | --- |
| Hardware Requirements | Windows |
| Runtime | 5 Hours |
| System Requirements | Pentium III 1 GHz, 2 GB RAM, Windows (Supports XP (Service pack 3), Windows 7, Windows 8, Windows 10), DirectX9, 256 MB graphics card, DVD-ROM drive, Windows Media Player 9 and Internet access for program activation. |
| No. of Computer Installs | Up to 3 Computers |
| Windows 10 Compatible | Yes |