The Sammy R Series Commemorative Chess Pieces - From the Camaratta Signature Collection - 4.4" King
A tribute to one of America's greatest chessplayers, Samuel Reshesvky, the Sammy-R is an exact reproduction of the Circa 1930s Jaques of London Staunton Pattern Chess Pieces that were used at many of the major international tournaments of the time, including the legendary A.V.R.O. 1938.
The House of Staunton is proud to offer the Sammy R Series Commemorative Chess Pieces. Part of the Camaratta Signature Series. they are a full club-sized Chess set that features a 4.4" King with a 1.9" diameter base. The Chess pieces are hand carved by our master artisans and crafted out of the highest grade Indian Rosewood / Boxwood and Genuine Ebony / Boxwood. The Chess pieces are heavily weighted with a beautiful finish.
As with all of our Chess sets, the Mayfield Series exemplifies a perfect combination of distinct beauty and functionality. It has been designed to withstand the rigors of practical play while maintaining an elegance which has become the hallmark of a House of Staunton chess set. The design, quality and craftsmanship of this set is UNMATCHED by any set of Chessmen in its price range. Nothing even comes close!
The Chessmen are new and each set consists of 34 Chessmen, including four Queens, a standard that was introduced by The House of Staunton in 1993.
NOTE - The Sammy-R also feature the F. Camaratta USA stamping on the base of the Boxwood King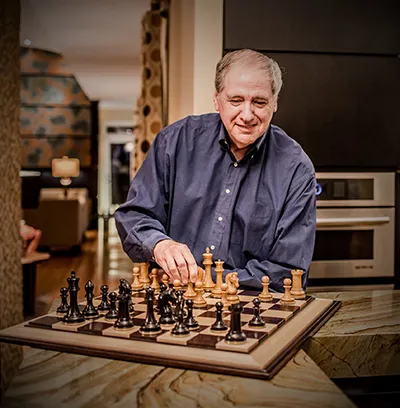 Frank Camaratta, the Maestro, has been involved in the World of Chess for over 60 years. Initially a player, having achieved the rank of International Master, Frank broadened his horizons, involving himself in chess promotion & governance, chess collecting and chess design research. He also has produced several chess-related patents, the most significant of which is Time Delay. Frank is today considered the foremost authority of Jaques and other Staunton and pre-Staunton chessmen, having written numerous articles on the subject.
Mr. Camaratta founded The House of Staunton in 1990, primarily collecting and dealing in antique chess equipment. It was during that period that inspiration struck to instill Old world craftsmanship and pride into present-day chessmen. In pursuit of that goal, Frank retired from his position as an Engineering Director on the Space Shuttle Program in 1998 to devote full time to making his vision a reality, which he did after spending years of research and study in to Staunton and pre-Staunton designs. The House of Staunton has emerged as the World's leading producer of Pre-Staunton and Staunton chessmen, as well as numerous artistically-inspired sets, which are unmatched in design, accuracy and craftsmanship.
More Information

| | |
| --- | --- |
| ISBN | Does not apply |
| Chess Board Included? | The Chess Board featured is for photographic purposes only and must be purchased separately |
| Fitted Coffer Compatible? | Fits in Fitted Coffer |
| King Height | 4.4'' inch / 11.18 cm |
| King Base Diameter | 1.9" inch / 4.83 cm |
| Basepad Material | The Kings Feature English Leather Embossed with Frank Camaratta Signature™ |
| Median Set Weight | 70.2 ounces |
| Total Number of Pieces | 34 Chess Pieces, including 2 Additional Queens (for Pawn Promotion) |